(Click the image for larger version)
Hundreds of area citizens joined hundreds of law enforcement officers on Thursday for a memorial service honoring slain Sergeant Steve Kenner of the Bismarck Police Department. The number of people attending, uniformed and civilian, was larger than any local church could hold.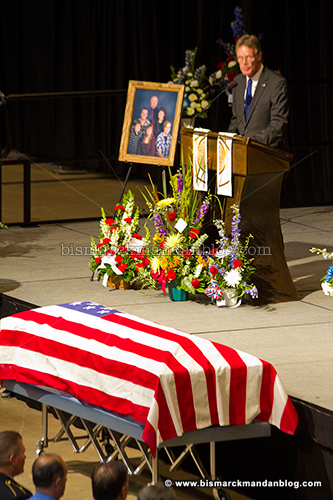 Mayor Warford gave remarks honoring Sgt Kenner's service, saying that his stature as a man was paralleled by his stature as an officer and member of the community.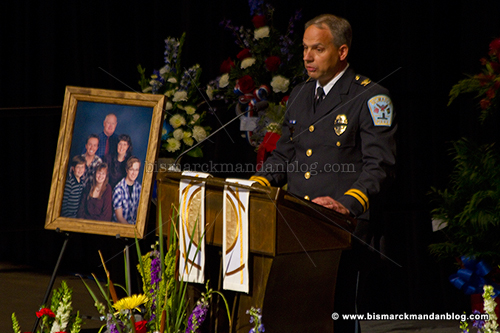 Chief Witt expressed that even now he's learning of things Sgt. Kenner did in this community that touched the lives of Bismarck citizens, things that nobody knew he did until the letters began pouring in at the Police Department over the last week.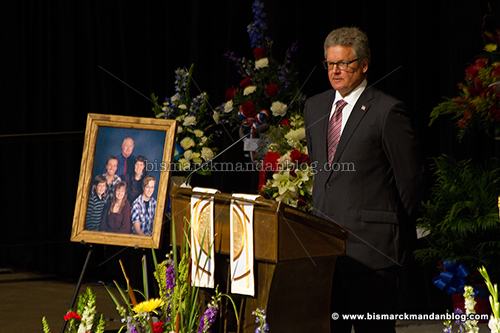 Back when I was just a kid hanging out at the police department control room at any opportunity, Craig Sjoberg was one of my favorite officers. He also offered his personal recollections of Sgt. Kenner.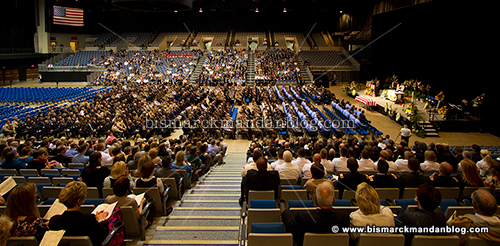 I was encouraged at the sight of many of my fellow citizens who came, like me, to join in support of all those grieving. Things like this make a fella proud of the community...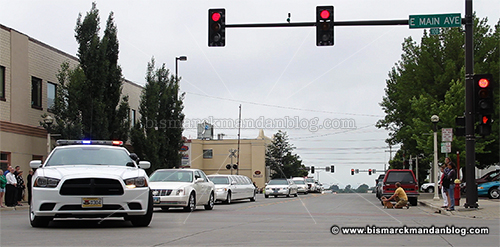 Just as the sight of people lining the streets along the route of the procession. It was an emotional thing, seeing people slowly arrive and display flags, flowers, even handmade signs of support. When the procession began, despite the number of people waiting at this intersection, downtown Bismarck was SILENT. It was a very moving experience.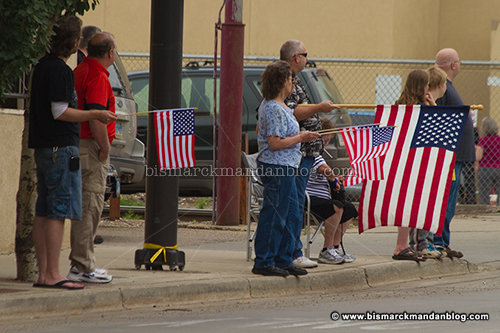 One reason why Bismarck enjoys a low crime rate is because of its professional police department and officers like Sergeant Kenner who risk their safety to protect ours. Another is because of a community that will band together in support of those officers. People lined Fifth Street, Main Avenue, the Memorial Bridge, all along the route to the Veteran's Memorial Cemetery. I was told that afternoon by people who were in the procession that the show of the community was amazing and really meant a lot.
I put together a little video of part of the procession with the audio of A Hero's Last Call. This audio was among the most stirring things I've ever heard, and there wasn't a dry eye in the Civic Center as it played.
Bismarck surely has suffered a tragic loss, one I hope we never forget. What can we do to help honor the memory of Bismarck's lone fallen police officer? I think I have an idea: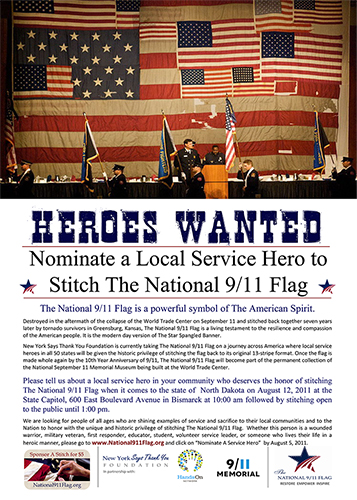 The New York Says Thank You Foundation is sending a National 9/11 Flag around the country to have it stitched back to its original format after being damaged during the terrorist attacks ten years ago. Commemorative patches are sewn on in each state. This flag will be in Bismarck on August 12th and they are looking for nominations of local service heroes to help stitch the flag.
Click here to visit the Nominate a Service Hero page on the national 911flag.org website
, and you can do what I did: nominate the Bismarck Police Department on behalf of Sergeant Kenner.
Fill out the form with your information and a description of what Sergeant Kenner's service and the Bismarck Police Department mean to you. Tell them that you wish to ask the Bismarck Police Department choose a representative to participate on Sergeant Kenner's behalf and in his memory.
For "Their email" you can enter "bismarckpd@nd.gov" and for phone number "701-223-1212". That will ensure that inquiries from the organization reach the Bismarck Police Department.
Here's a link to the poster for the event (PDF):
Click Here
Here's a link to the press release for the National 9/11 Flag (PDF):
Click Here
Spread the word, let our local law enforcement know that we stand with them, and help honor a local hero!
[ 1 comment ]
( 21 views ) |
permalink
|
Click a dot to rate this entry:





( 3.1 / 151 )
---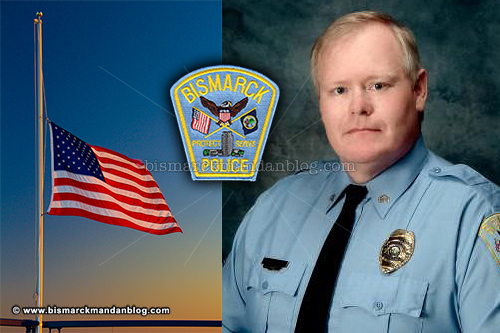 I took my little boys out for a bicycle ride on the Memorial Bridge last night and took in the sight of the flags flying at half-staff per Mayor Warford's declaration. It's been moving to see the outpouring of support for Sergeant Steve Kenner since some worthless piece of crap gunned him down on Friday.
A Facebook page has been set up for people to pay their respects and it already has
over three thousand fans
. That goes to show the kind of community we have, where people rightfully hold dear the men and women who risk their safety to protect ours.
One thing that makes this so infuriating is the fact that Sgt. Kenner has been a well-known part of Bismarck for decades. Anybody who was a teenage driver within the last thirty years knew of Officer Kenner. In fact, he was an expert in traffic enforcement and, as a young motorcyclist, that's how I encountered him most frequently.
I remember sitting at a red light with FOREVER on one of my motorcycles many years ago, late at night, with Officer Kenner (he made Sergeant in 2000) behind my friends and me in his patrol car. I let the light go through a few cycles without turning the light green in the left turning lane which I occupied, looked over my shoulder at Officer Kenner to convey my intentions, and looked back ahead as I proceeded through the light. Naturally I saw red strobes in my mirrors a few seconds later!
Since I used to build the type of inductive loop sensors that the traffic signals used when I worked at the DOT, I knew that the one beneath my bike was unaffected by the large amounts of aluminum, titanium, and magnesium in the motorcycle. They're not very effective on these sensors. I explained my case to Sgt. Kenner and he agreed with my explanation, and we parted ways. I thought that was quite fair. Then he wrote up one of the guys I was riding with for not having proof of liability insurance. :) :) :)
I read in the Tribune that Sgt. Kenner performed a lot of noteworthy feats in his career, saving lives and performing rescues. He received many commendations and awards, as the newspaper and TV articles will tell you...but he was more than that. He was a part of Bismarck that you just always expect to be there. Then along comes some good-for-nothing jackhole who, for no reason at all, takes him from us. I'm being as careful as I can with my words because I'm very angry, and clearly many others in our community are as well.
I'm sure there will be many things said in heartfelt remembrance of Sergeant Steve Kenner, I think the most meaningful I can articulate is what I said above: Sergeant Steve Kenner had a PLACE in this community. Only he could fill it. You didn't have to know him personally to be glad that he was in that place, and you don't have to have known him personally to be furious that his place is now occupied only by his memory.
It's no secret that I'm a passionate advocate for local law enforcement. I've participated in ride-alongs, had the privilege of attending the Citizens' Police Academy, I was a first lieutenant in the Mandan Police Explorers youth club and spent lots of time helping in the control room of the Mandan LEC before leaving for college. I have a great deal of respect for the men and women who serve in law enforcement, and I pray for them daily. I encourage you to do the same; don't let it take a tragedy like this to get you to that point.
As we offer prayers on behalf of Sergeant Kenner's family, let's remember the others who mourn his loss as well as those who continue to serve on a daily basis to keep our communities safe. They work long, hard jobs dealing with people you and I would loathe or fear, and they do it without recognition. Please give them your support daily as they continue to perform their duty even in the shadow of this terrible tragedy.
[ add comment ]
( 26 views ) |
permalink
|
Click a dot to rate this entry:





( 3.2 / 164 )
---

I was perusing a magazine last weekend when something caught my eye. I'm a speed reader and I have this disorder where typographical issues jump out at me as if I'm viewing one of those
Magic Eye 3D images
. Did you already spot this one?

Fort Arbaham Lincoln. Hm. Okay, so my disorder doesn't end there. I figured perhaps there might be a legitimate use of Arbaham somewhere, so I typed "Arbaham" into Google and got some interesting results.
Most noteworthy is a book titled A Man of the People: a Drama of Abraham Lincoln. This stood out right away, so I went to
Barnes and Noble's site
to see if it really was listed under that title. Yup.
Borders has this book by Thomas Dixon
listed twice on their search engine
. Both times it's with Abraham, not Arbaham.
I found listings for Arbaham on Amazon, Biblio, Alibris, and others. So who's right? All of them, sorta...
A quick search
of the
ISBN
(International Standard Book Number) these folks are using for Thomas Dixon's 1920 book,
#9781140264811
, shows a typo in the ISBN registry listing for this book. That means whoever relies on the
ISBN entry
as their source for correct information on this book has a problem.
Since this book is in the public domain,
you can read it online for free
or even
download it in various formats
and note that the cover page has the correctly spelled title, meaning that Borders has it right. However, since the other sites are using the "official" title of the ISBN registry, can you blame them?
Anyway, we all make little slips from time to time. It happens. Sometimes it's funnier than others, sometimes it goes completely unnoticed for decades. While this book was written in 1920, the ISBN has only been in use for a little over fifty years. Hopefully my typographical errors and misspellings will live on in infamy as well for someone to discover later. Have a great weeekend! ;)
[ add comment ]
( 37 views ) |
permalink
|
Click a dot to rate this entry:





( 3 / 135 )
---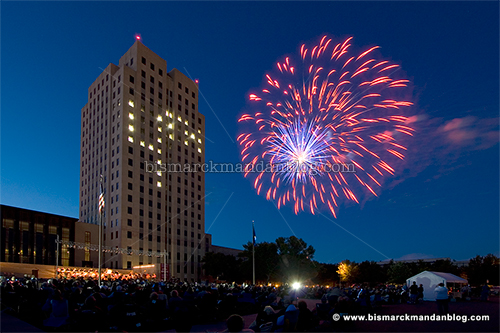 Despite my fancy new camera and the desire to wield it, I made a pledge as Independence Day weekend approached:
I'd leave it at home
. This was no small matter, since I'm accustomed to taking a camera with me nearly everywhere I go. The photo above is from 2009, when it won a spot in the Governor's Photo Contest and appeared in the 2010 North Dakota Travel Guide. It was photo number 43,000 through my Canon 20D, which is now around 57,000 exposures old.
Actually, the conditions on that evening in 2009 have never been matched: the sky was a beautiful blue, not totally dark, yet the fireworks blazed on. Photographically speaking it was perfect light, something that comes along very infrequently. Still, I'd love the opportunity to shoot this gig with my new camera. There are, however, more important things at hand.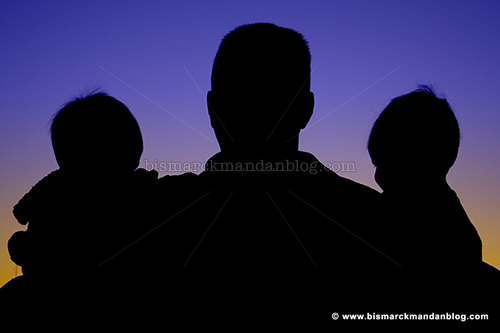 I take the job of being Daddy very seriously. My boys are now both old enough to enjoy the fireworks display, although they still hold their ears. No diaper bags, long stroller rides, or other "baby stuff" - I have two little men in my house. Those men rely on Daddy to show 'em the ropes, and I'm up to the task.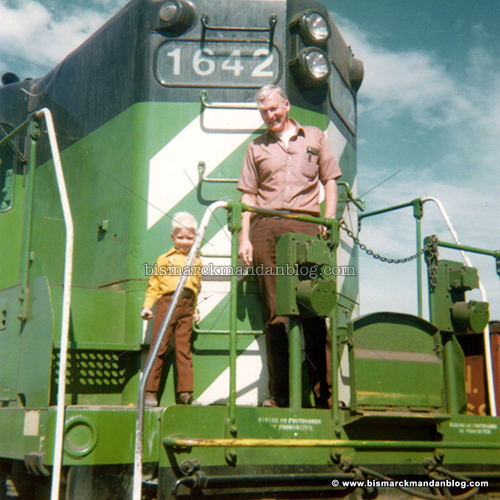 My dad's idea of fulfilling his responsibility as a father involved working himself harder than his body could bear in order to provide for his family. He succeeded in both. As a boy I remember noticing that Dad worked. A LOT. I'm sure it was what he thought was best for us, to work hard and provide. There were times where I had some special one-on-one memories with my dad, but one still stands out most prominently in my memory: the day he took me to a railyard and got me a ride on a real train. That's not my dad in the photo above...that's the engineer that drove us around the yard.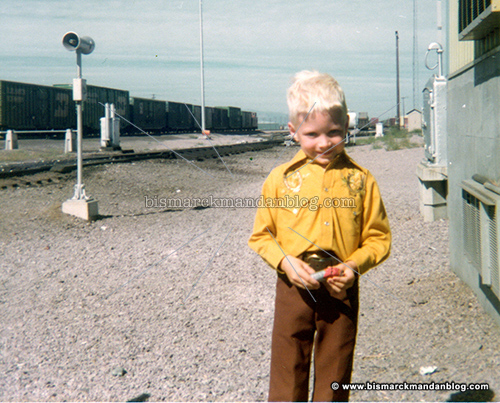 I found these photos by accident yesterday, but they were a perfectly timed reminder of how special such a time like this can be. I knock myself out trying to find fun and unusual places to take my boys, even at their young ages, to give them memories such as the one I had. I've vowed not to be too busy with work or selfish things because I know how much having even
one
such memory with my Daddy meant to me. I hadn't even realized that he took a camera with and took photos, something I never recalled him doing. What a discovery!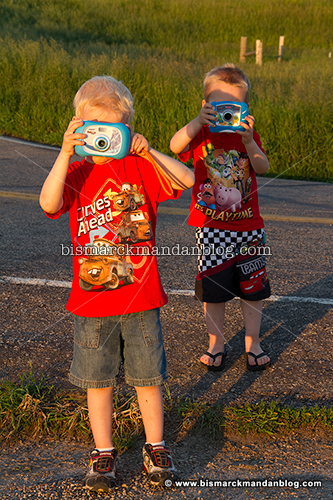 These precious little men aren't just looking for Daddy to teach them about stuff like trucks, trains, or cameras... they're counting on me to teach them about life. Rule Number One about being Daddy is making sure that family comes first. It's a tough one, since I was single until my mid-thirties, but I work hard at it. If a guy's got any character at all, how can he not strive to put Mommy and the kiddos before himself? Besides, I'd trade a hundred prize-winning photos for ones like the shot above. They're watching me through their little viewfinders every single day, and as I learn what's really important in life I intend to show them, and to lead by example.
[ 3 comments ]
( 39 views ) |
permalink
|
Click a dot to rate this entry:





( 3.1 / 208 )
---

I like this scheme a LOT better than the silver.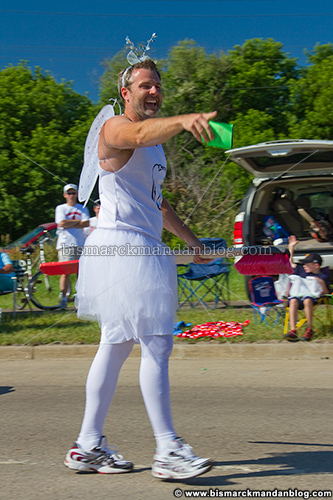 Someone at Prairie Rose Dentists has quite a sense of humor!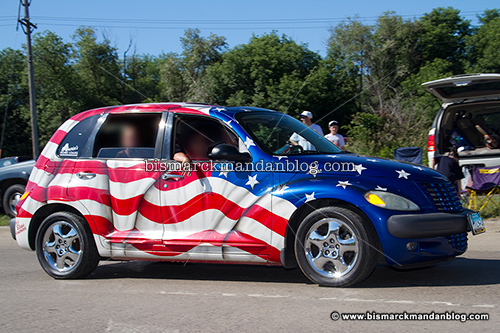 According to liberal journalists, a flag-painted vehicle is just fine unless you're Sarah Palin.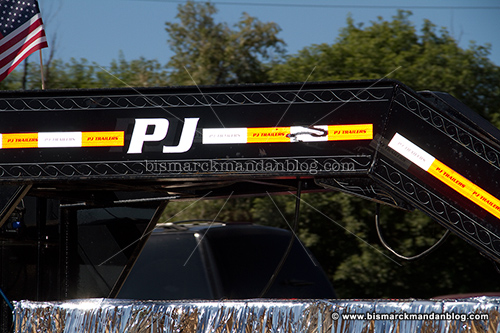 My little boy PJ likes this trailer.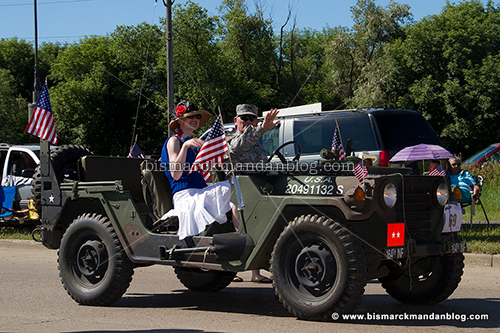 General and Mrs. Spry.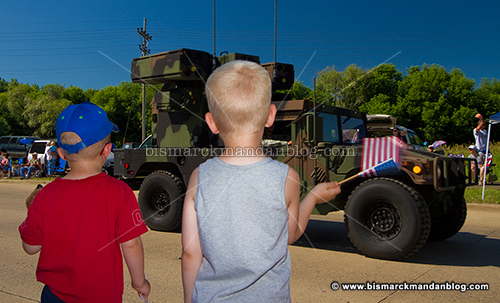 My little boys understand that soldiers protect & defend our nation.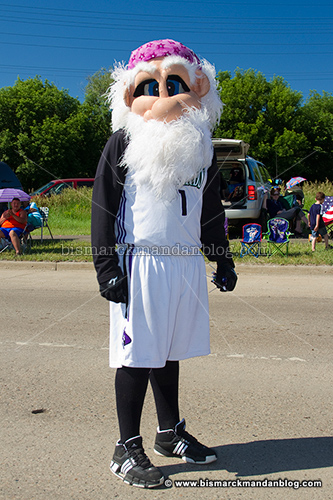 Dunkie. His posture indicates that this is his last year in the Bizzo.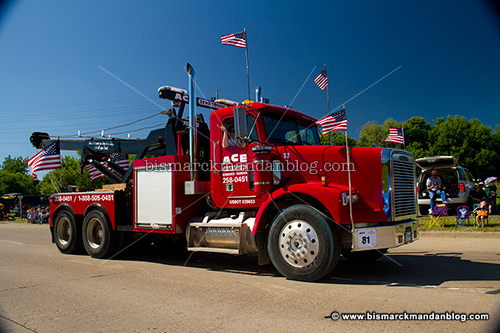 The biggest tow truck my boys have ever seen. Take that, Mater!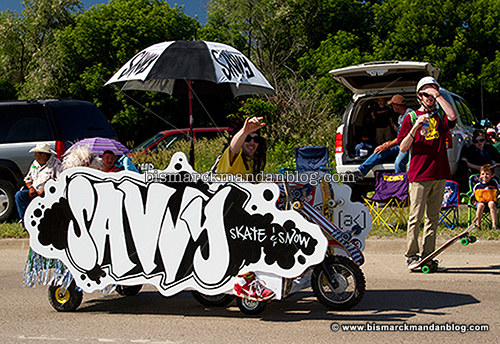 Savvy Skate & Snow shows some construction ingenuity.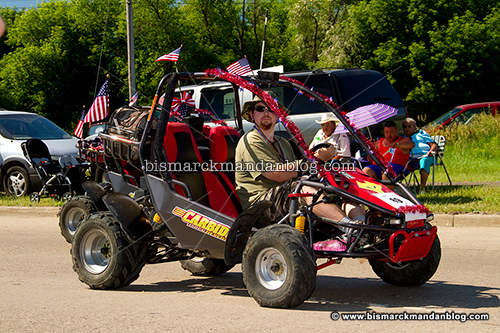 Okay, these are cool...we've come a long way since the Honda Odyssey!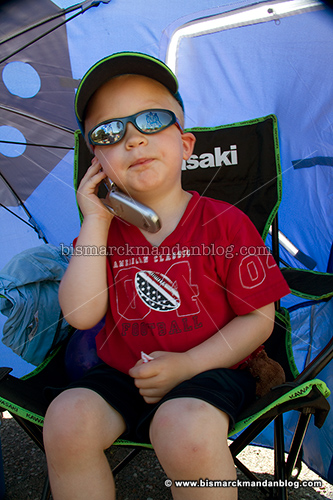 Giving Grandma a brief sitrep.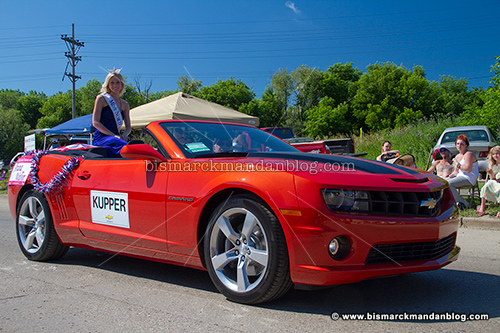 Miss North Dakota, Arianna Walker. I've been friends with her dad for 20 years.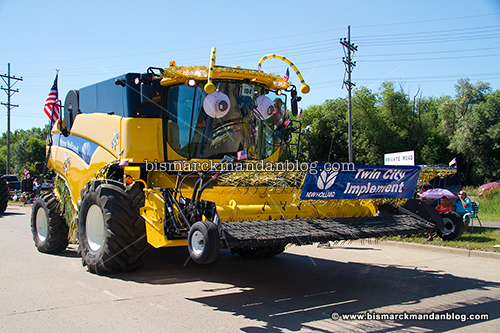 Why do you put googly eyes on a combine? So you know where you stand with it...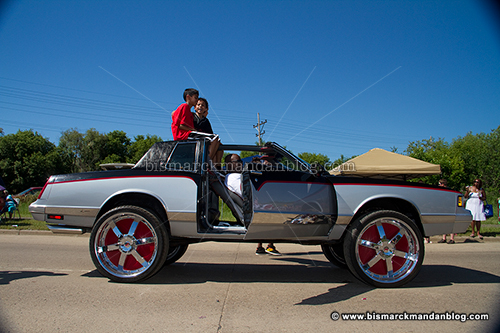 Your boyhood Hot Wheels collection comes to life.
I was surprised at how short this year's parade seemed, but I'm glad it took place. We typically only stay for a little while because we need to limit exposure to the sun, so we were caught off guard when the end of the parade passed us. It would be interesting to compare the number of entries this year compared to years past. Nevertheless, a 500 year flood won't prevent Bismarck-Mandan from celebrating Independence Day!
[ add comment ]
( 32 views ) |
permalink
|
Click a dot to rate this entry:





( 3 / 192 )
---
<<First
<Back
| 57 | 58 | 59 | 60 | 61 | 62 | 63 | 64 | 65 | 66 |
Next>
Last>>