A few Fridays ago I spotted some pretty wild clouds overhead and had some time to pursue them. As it turns out, the sky provided a pretty good variety for me...it just took a little legwork.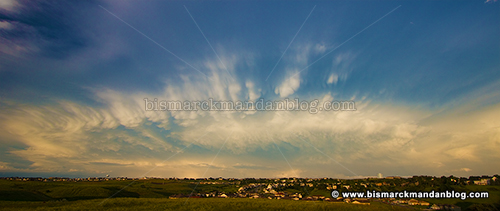 Although the previous photo was taken from the parking lot of Bismarck High School, I knew I needed a better vantage point in order to capture some of the more spectacular sights. I headed for Promontory Point to catch the tail end of this weather system. It had some pretty astonishing lift, making for some really visually appealing artifacts in the clouds.
Here's the trailing edge of this weather cell. While it looks pretty cool on its own, it's what was taking place within the clouds that was most exciting.
As you can see, the lines forming within this group of clouds are pretty neat all on their own, illustrating some very unique dynamics within the system. I decided I needed a better look, so I decided to head to Fort Lincoln.
Sadly, I was told at the gate that the blockhouse hill had been closed because of these very clouds. I was extremely ticked; I mean, why do I pay for a state parks pass if they close whenever it's most useful? The blockhouse hill is closed until the sun has risen, it closes at sunset, it closes for weather... it's ridiculous. I retreated to the Veteran's Memorial Cemetery for a hasty shot before the sunlight went away for the evening.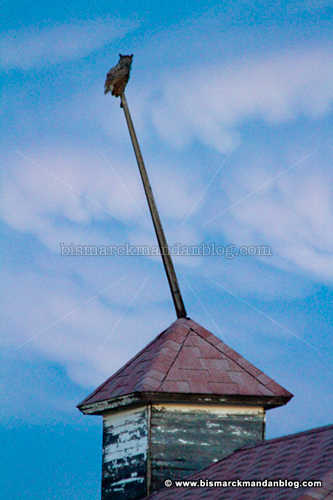 Out by Huff I noticed that I once again had feathery company in my observation of local weather patterns. On the way back I saw several more of his counterparts perched atop power line poles along the highway.
As always, I maintain that North Dakota has some of the most dramatic skies. Keep looking up, or you just might miss 'em!
[ add comment ]
( 19 views ) |
permalink
|
Click a dot to rate this entry:





( 3.1 / 147 )
---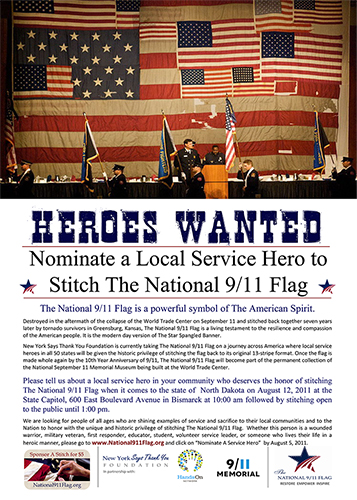 The New York Says Thank You Foundation is sending a National 9/11 Flag around the country to have it stitched back to its original format after being damaged during the terrorist attacks ten years ago. Commemorative patches are sewn on in each state. This flag will be in Bismarck on August 12th and they are looking for nominations of local service heroes to help stitch the flag.
Click here to visit the Nominate a Service Hero page on the national 911flag.org website
, and you can do what I did: nominate the Bismarck Police Department on behalf of Sergeant Kenner.
Fill out the form with your information and a description of what Sergeant Kenner's service and the Bismarck Police Department mean to you. Tell them that you wish to ask the Bismarck Police Department choose a representative to participate on Sergeant Kenner's behalf and in his memory.
For "Their email" you can enter "bismarckpd@nd.gov" and for "Their phone number" enter "701-223-1212". That will ensure that inquiries from the organization reach the Bismarck Police Department.
Here's a link to the poster for the event (PDF):
Click Here
Here's a link to the press release for the National 9/11 Flag (PDF):
Click Here
Spread the word, let our local law enforcement know that we stand with them, and help honor a local hero!
[ add comment ]
( 28 views ) |
permalink
|
Click a dot to rate this entry:





( 3 / 150 )
---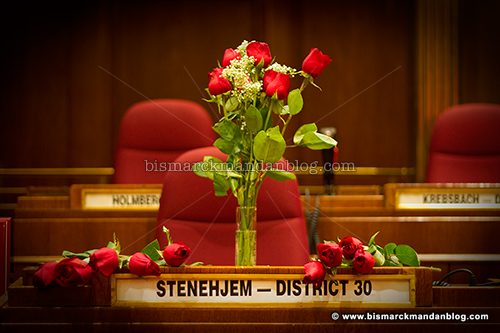 The city of Bismarck has lost another member, one who served not only in the Public Works department but also as a state senator and leader. Services are being held today for Senator Bob Stenehjem, the senator from my district. If you live in south Bismarck, chances are he was your senator too.
Condolences to the Stenehjem family and the many others...family, friends, coworkers, and fellow legislators who will feel his loss.
[ add comment ]
( 17 views ) |
permalink
|
Click a dot to rate this entry:





( 3 / 169 )
---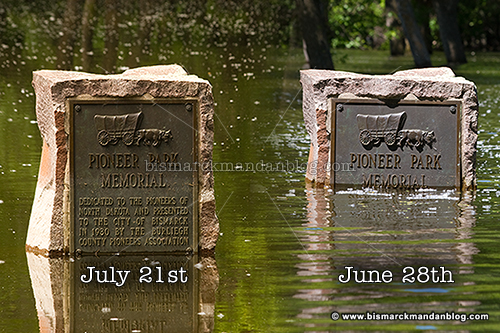 No, I'm not talking about the Enya album. I'm actually talking about indications of how high the river level has been. One of the best ways for someone who doesn't live in a flood-affected area to get a handle on the water level is to find a familiar place which can give you a good point of reference. For many, including myself, Pioneer Park is one of those places. If you look at the photo above, you can tell that the water level has dropped significantly.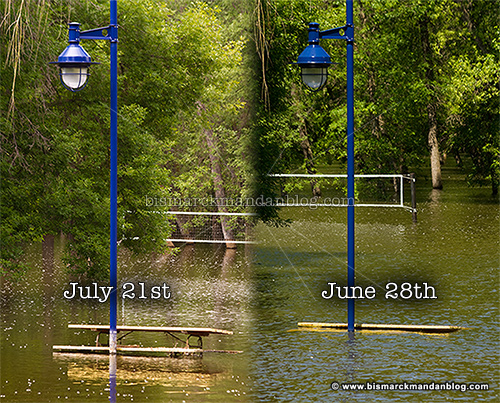 Picnic tables that were bobbing in the water before are protruding from the water quite nicely now.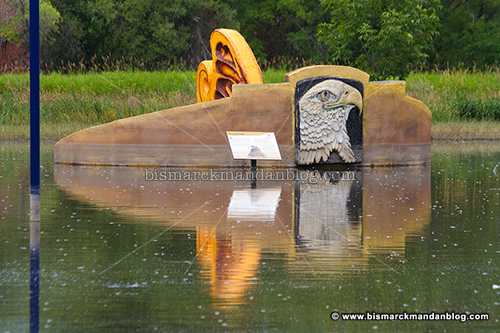 The only thing monumental about these things is the the waste of tax money to produce them. In any case, there's a good reference point here as well. A clear high water mark can be seen and the water was up to the signage at one point as well.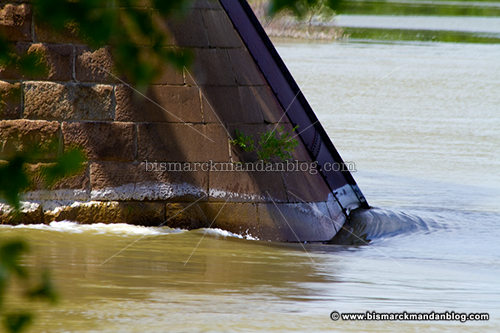 That's not all: the pilings for the NP railroad bridge have a tale to tell as well. Note the turbulence along the side of the pillar. I've got some amazing photos and videos of that from earlier in the flood event, I just haven't had time to share them...yet.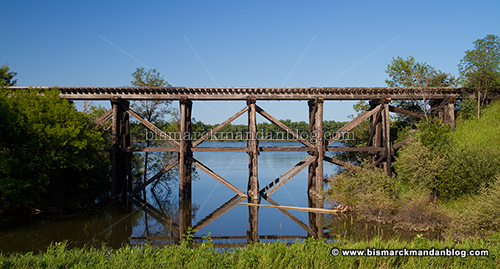 Even at good ol' Fort Lincoln, there are signs of receding water. In addition to the birds-eye view of the flood from the top of the northeast blockhouse, there's also this little slice of backwater.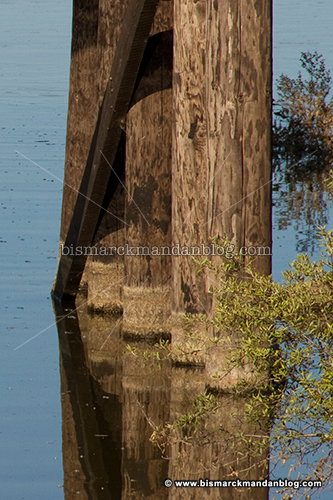 Once again, the structure gives a good indication of water finally receding. There's a beaver that hangs out in this little inlet who I think has been enjoying the high water levels and is in for some disappointment! A couple of weeks ago I watched him slap his tail as he swam back and forth.
With releases from the Garrison Dam continuing to diminish, I'm sure we'll begin to see a major difference. I notice that the river gauge in Bismarck indicated 23.67 feet earlier today, but that's obviously a glitch. Hopefully we'll start a steady decline toward normal river levels soon!
[ 1 comment ]
( 30 views ) |
permalink
|
Click a dot to rate this entry:





( 3.1 / 110 )
---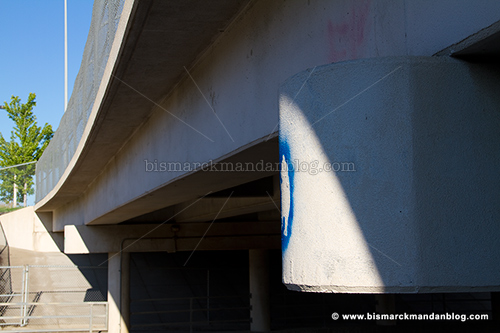 If you head down Washington Street and take a gander at the Main Avenue overpass, you'll see something unexpected... something I spotted weeks ago but subsequently forgot about.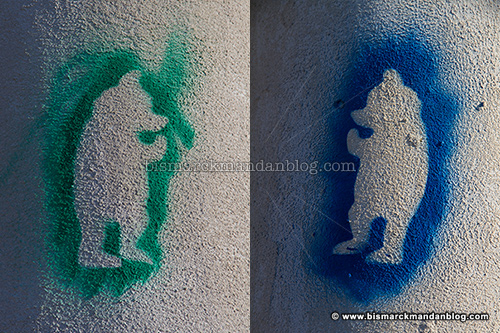 Someone stenciled a couple of Pooh Bear silhouettes on the support pillars of the bridge. Despite the fact that they're sorta Kawasaki Green and Suzuki Blue, I'm not a fan of this sort of defacement.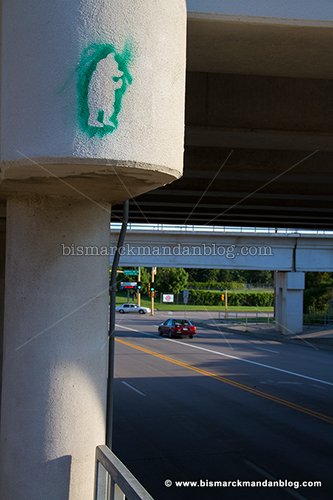 My guess is that someone downloaded a copy of the documentary
Exit Through the Gift Shop
and decided to be small town North Dakota's version of
Banksy
or something. The fact of the matter is that no matter how clever or extravagant, this "street art" is vandalism. It doesn't get any more complicated than that. Hopefully this sort of thing doesn't become too common in our city.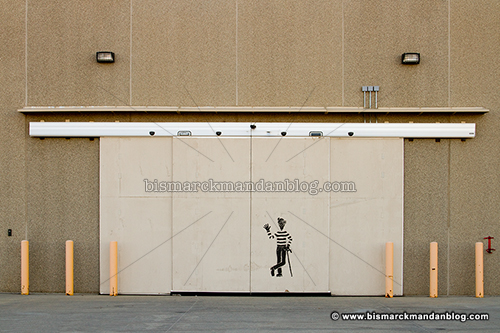 I can't help but wonder if the Pooh bears are in any way related to this stencil of Waldo that used to adorn a boarded-up rear entrance of the former Home Depot building. I wrote about it last year and it's no longer on that building, as the building configuration has been changed.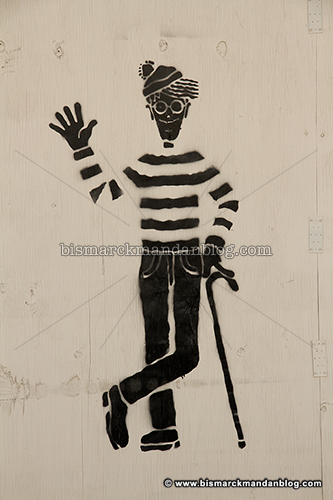 My suggestion for anyone who wants to get into "street art" is that they rent or buy a piece of property, and then go nuts with it. In the mean time, don't bother defacing property around the Bismarck-Mandan area that doesn't belong to you, and find a more constructive outlet for your stencil skillz (sic).
[ 1 comment ]
( 31 views ) |
permalink
|
Click a dot to rate this entry:





( 3.2 / 110 )
---
<<First
<Back
| 56 | 57 | 58 | 59 | 60 | 61 | 62 | 63 | 64 | 65 |
Next>
Last>>