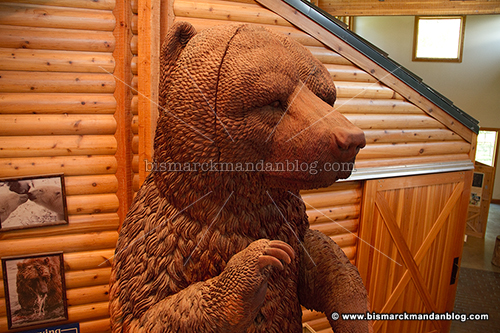 I'm old enough to remember Clyde, the former star of the Dakota Zoo. If I remember correctly, I think he was the world's largest Kodiak bear. A life-size wood carving of Clyde has been placed inside the zoo's Discovery Center in his honor...that's one tremendous bear!
A friend of mine once told me that there are three things that concrete does: it gets hard, it turns gray, and it cracks. Well, wood carvings do a couple of those things. As the wood ages it often develops cracks in inconvenient places. This carving of Clyde appears to have done so. I don't think it detracts from the statue or its tribute at all, but it did make an opportunity for a "splitting headache" joke!
This statue really is quite large, as was the real Clyde. To get this shot I had my camera on a monopod, with the foot wedged into my collarbone, and the camera fired by remote as I held it aloft. Oh yeah...I was standing on a stump at the time, too. Here's to you, Clyde!
This isn't the only remarkable tribute to Clyde, although it's far more permanent than my other favorite. Right after Clyde's passing, someone made an enormous sand sculpture of Clyde lying on his back on the sandbar beneath the original Liberty Memorial Bridge. It was quite plainly visible while driving over the bridge until nature took its course and slowly whittled away at it. I wish I had been a photographer back then! I'm sure pictures of it are floating around somewhere...just not in my collection.
[ add comment ]
( 4 views ) |
permalink
|
Click a dot to rate this entry:





( 3 / 261 )
---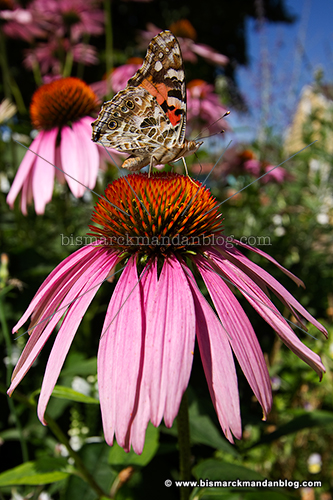 I was out roaming this weekend when a friend called to tell me that butterflies and caterpillars were having a heyday in her flower beds, especially around the milkweed. Since milkweed is poisonous, Monarch Butterflies eat it to prevent birds from eating them. Amazing how God's creation works out, isn't it?
Naturally I bolted over. I lamented the fact that I sold my razor-sharp 100mm Canon macro lens this spring to buy more accessories for my new 7D camera. Then I had an epiphany: during some free time at work last week I stumbled upon the fact that my 10-22 wide angle lens will focus to around four inches! That's very close, and means I still have a "macro lens" in my arsenal. That's what I used on the butterflies.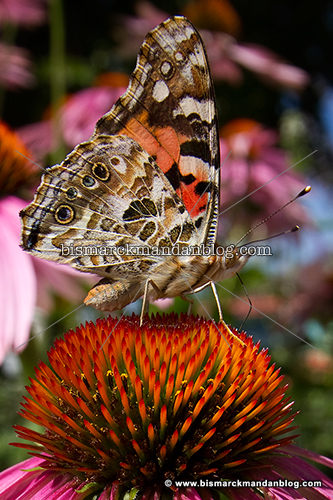 As you can see, it works just fine. That really made my day, since I'd really been missing that 100mm lens! Now I'll have to try more situations with my wide angle at short distances, and see what kind of ideas it gives me...
[ 1 comment ]
( 13 views ) |
permalink
|
Click a dot to rate this entry:





( 3.1 / 373 )
---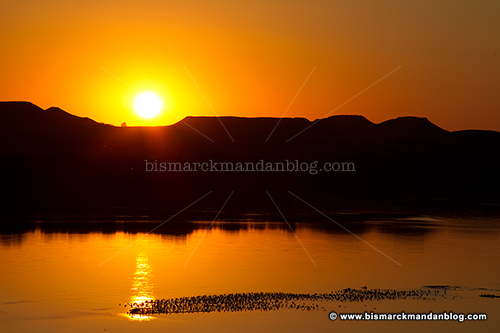 July Flame
I'm seeing fireworks
They're so beautiful
Tell me why it hurts

July Flame
Ashes of a secret heart
Falling in my lemonade
Unslakeable thirsting in the back yard
On the last day of July I braved the heat and humidity to capture the sun as it set between a couple of those awesome buttes north of town. These are just north of the Square Buttes, but part of the same formation. The lyrics are from my favorite July song EVER, "July Flame" by Laura Veirs.
You can check it out on iTunes by clicking here.
By the way, that island in the foreground is made up entirely of birds. LOTS of birds. And from the sound of things, they were having quite a bird party.
Boy...July sure came and went quickly, didn't it?
[ 1 comment ]
( 15 views ) |
permalink
|
Click a dot to rate this entry:





( 3.1 / 266 )
---
I like hiking up to the blockhouses at sunset. I don't like hiking back in the dark so much. I got a great view of the evening sky in between, though! I got there too late to capture the sunrise, and there were clouds moving in from the northwest AGAIN...but there were some shadowy rays tracing off into the darkness as I began to head down the hill, so I did not come back empty-handed.
[ add comment ]
( 2 views ) |
permalink
|
Click a dot to rate this entry:





( 3 / 326 )
---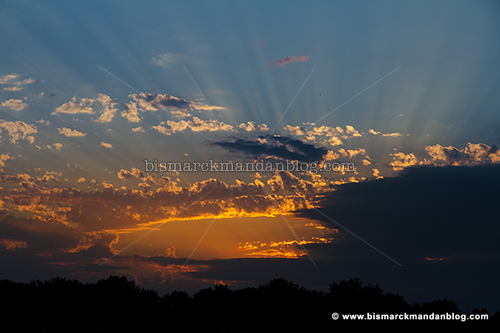 I need some wildlife video for a project I'm working on, so I worked my way down toward Fox Island to see what I could find. Along the way I couldn't help but notice this beautiful sight in the sky, with awesome streaking rays of sunlight radiating overhead. I was able to catch it before a huge, looming cloud obscured the whole thing. Then I got some really nice HD video of a very cooperative deer before heading home.
[ add comment ]
( 4 views ) |
permalink
|
Click a dot to rate this entry:





( 3.1 / 281 )
---
<<First
<Back
| 92 | 93 | 94 | 95 | 96 | 97 | 98 | 99 | 100 | 101 |
Next>
Last>>