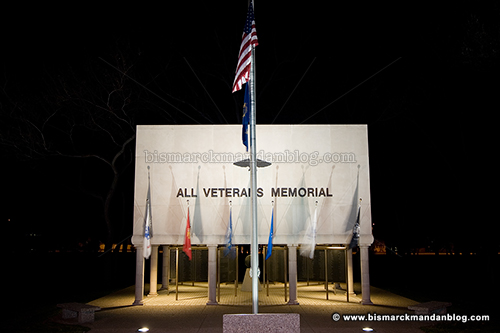 Last night I got done working on the wife's truck and decided to pay a visit to the All Veterans Memorial on the grounds of the North Dakota state capitol. With today being Veterans' Day, there will be a lot of visitors here. This memorial does something special on this day, and I didn't feel like intruding on the day with my camera during a solemn occasion (although I may be visiting to pay my respects).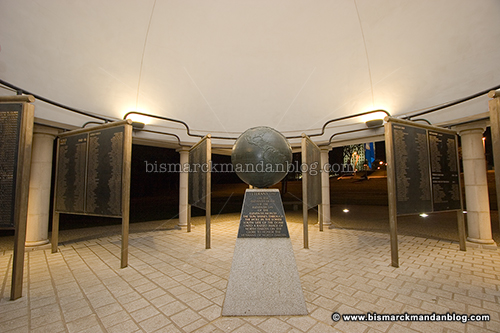 For anyone who doesn't know, the top of this memorial is only square on the outside; the inside is a spherical dome. That's important for many reasons, which are evident when you're there. At the center of the monument is a globe on a pedestal.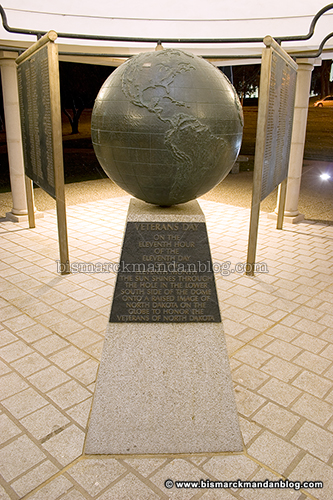 As the placard describes, something special happens here at 11 o'clock on the eleventh hour of the eleventh month every year, in commemoration of Veterans' Day.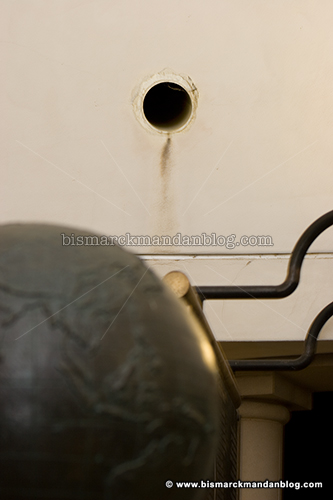 At precisely that time, the rays of the sun travel down this hole in the dome of the monument, beaming their way directly toward the globe at its center. I was kinda hoping that someone would be able to clean that stain off the wall where water sometimes drips through the tunnel.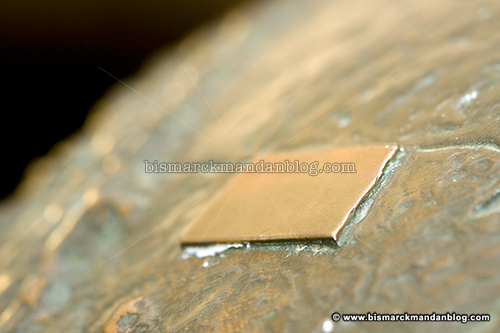 On the globe, North Dakota is raised and polished above the surrounding terrain. The light of the sun strikes it directly for a brief period of time every Veterans' Day at 11 am, lighting it up for those in attendance. Hopefully someone can tidy up this globe before it sees all the attention today; I tried to dab a couple of spots off with a clean handkerchief, but that didn't help like an actual cleaning would.
While this is a really neat phenomenon, it's really all about remembrance. Millions have served this great nation over the past couple hundred years and every one of them sacrificed a great deal, even if they didn't lose their life or suffer physical injury in battle. Today is only one of the 365 days each year that we should hold them in high regard and thank them for the freedoms we enjoy because of their commitment to duty. If you're there to see the light of the sun strike North Dakota on the globe, that'll be really neat. Then take some time to peruse the names on those metal placards and consider the men and women who protect this great nation.
[ 2 comments ]
( 29 views ) |
permalink
|
Click a dot to rate this entry:





( 3 / 188 )
---
Late last week I posted about
my appeal to Congressman Pomeroy
to vote against the House health takeover bill, which will bring the national recession home to North Dakota. He caved to pressure from his national party and voted for it anyway, regardless of its effect on North Dakotans.
First, Earl decided he needed the accolades of Washington insiders, which
he achieved by announcing support
for this monstrosity of a bill.
Also, Earl
appeared at a press conference to apologize to Nancy Pelosi
, whom he
really
serves when the rubber meats the road. That will insure the backing of the national Democrat (
not
Democratic) party in his re-election bid. North Dakotans got sold down the river.
Saturday night, in clear violation of promises by President Obama and Speaker Pelosi that final legislation would be placed online for 72 hours for public review,
Earl Pomeroy voted to cut Medicare by $400 billion and start taxing North Dakotans and North Dakota small businesses into compliance with socialized health care.
This is a pattern with Rep. Pomeroy, who represents the Democrat Party more than he represents North Dakota. Perhaps any ND suffix after his name should just be retasked to stand for National Democrats.
The first particular instance that really angered me was when I stood beside fellow Patriot Guard Riders at the funeral of a fallen soldier. On June 17th, 2009, Earl Pomeroy made sure to attend the funeral of a fallen North Dakota soldier and play the part of a supportive member of government. There's only one problem:
less than 24 hours earlier he had voted with fellow Democrats against a resolution
voicing support for the soldiers and
pledging victory in the Global War on Terror!
He couldn't split from national Democrats even to support the soldiers, but then the hypocrite comes back to North Dakota to act like it never happened.
While in North Dakota, he's one Earl Pomeroy...after the jet ride back to Washington, DC, he's an entirely different Earl Pomeroy altogether. Don't take my word for it; click on each of the links indicated in blue in what I just wrote above. Connect the dots for yourself; that's why I'm diligent in posting links supporting every point I make. The next time you have a chance to vote against this traitorous hypocrite on a ballot, please exercise your right to do so.
Remember: a vote for Earl Pomeroy is a vote to rubber-stamp whatever the most extreme leftists in Congress want him to do.
[ 4 comments ]
( 82 views ) |
permalink
|
Click a dot to rate this entry:





( 3.1 / 228 )
---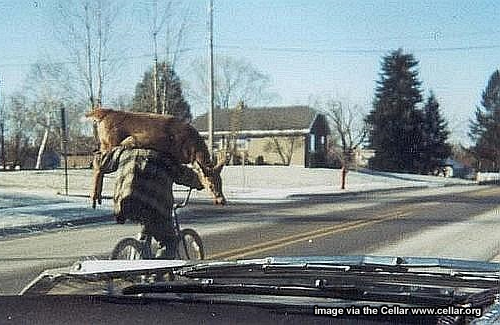 To paraphrase my friend Rob's caption for this photo, "How to spot a North Dakotan who's had a DUI."
I've been out with my camera during deer season before, although I've never been stupid enough to venture off the road. Even parked along an established road like 93rd Street southeast of town, the ringing of gunfire in all directions made me a little too nervous. I haven't taken my camera out of the bag much lately because of the cold/flu/sinus thing ravaging our house, but if I do I think it'll be well within city limits.
[ 1 comment ]
( 26 views ) |
permalink
|
Click a dot to rate this entry:





( 3.1 / 215 )
---
You can download the bill in PDF format here
.
Part of this was spurred on by
this article in the Washington Post
. According to the article,
"Rep. Earl Pomeroy (D-N.D.), a prominent fiscal hawk, stood up to announce that he would support the measure, drawing a round of applause loud enough to be heard outside the room."
I think we can draw the right conclusion as to who was doing the applauding, and it
wasn't
North Dakotans.
I took seven of the sections of legislation that stood out to me the most, printed out those pages from the over 1,900 contained in this bill, and made some notes of my own. I attached a brief letter to my Congressman, and set out to deliver it in person to his office.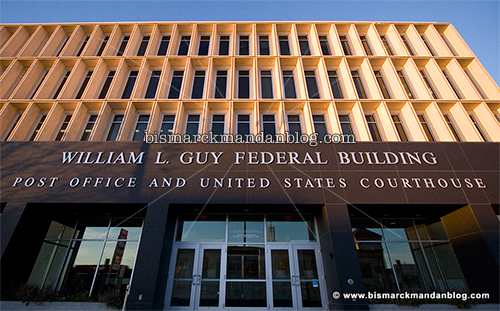 Getting to the office of your Senator or Representative in Bismarck isn't exactly convenient. Because they put their offices in the federal building, there are certain restrictions. No cameras, which is why the only photo you'll see for this post is above. No phones, presumably because they take pictures. Metal detectors, of course, since there's a federal courthouse and other offices such as US Marshals reside inside. Thus my Superman-inspired "fortress of solitude" crack in the title of this post.
Walking down the sterile hallways, it was obvious this was a government building. Pale blue walls, all doors closed, no windows, lots of cameras. Can you imagine having a national health care system every bit as personal as this place? I shudder at the thought. Anyway, I found Representative Pomeroy's office on the third floor, northeast corner, with windows facing out toward 3rd Street. I talked to a polite gentleman there and handed him my letter voicing my concerns. The text of the letter:
Congressman Pomeroy:

It was with great disdain that I read the attached Washington Post article where you drew "a round of applause loud enough to be heard outside the room" for supporting the train wreck that is HR 3962, the House health "reform" act. I guarantee, sir, that those cheers were not coming from North Dakotans. I may be a simple guy, but in perusing the nearly two thousand pages of bureaucracy in the act I have found the following (see attached, with notes):

Page 91 - if my existing coverage changes in any way, I'm forced into the government system;

Page 110 - Abortions are covered as soon as the House can find a way to circumvent the abortion law;

Page 275 - My employer, a small business, will have to pay an additional 8 percent of its payroll to the government if it cannot provide us a government-approved health plan, likely forcing it to fire some of us;

Page 297 - I will personally be taxed 2.5% if I don't meet the government requirements for a health care plan - where does the Constitution allow the federal government to force a private citizen to buy anything?

Page 313 - again goes after my employer, and hundreds of North Dakota businesses. How is this good for the state you claim to represent?

Page 339-341 - Taxes the sale and use of medical devices, a term so broad and subjective that it will certainly become all-encompassing. How does adding more taxes serve North Dakotans?

I'd like to remind you that all this information is readily available to North Dakota citizens and we are using it. More and more of us each day are building excitement at the idea of defeating anyone supporting this socialist, unconstitutional assault on our freedom. I advise you to keep us in mind as you consider your next bid for re-election.

I would like some answers, sir. As my Representative you are supposed to be looking out for the best interests of North Dakotans, not Nancy Pelosi. In light of that duty, I think your constituents deserve an explanation of how this bill can possibly be good for North Dakotans and North Dakota businesses. I eagerly await a reply.


Respectfully,
Clint
I suppose I could have been all confrontational and demanded an answer from the staffer, but why should I ambush a guy at work? I voiced my concerns on paper and received an assurance that Representative Pomeroy would receive my letter. I took part in the process. Let's hope that others took some time to send him (and other members of Congress) a clear message.
Don't take my word for it, though. Download the bill yourself and look at the page numbers I listed above. Those are just scratching the surface of this monstrosity! It creates
111 new federal bureaucracies
to administer this juggernaut as well, according to a report I read online. It may even be worse, since Nancy Pelosi has
broken her promise to post the final legislation online 72 hours before it comes to a vote
. Does
anyone - especially
Congresman Pomeroy - have any idea what's actually contained therein?
Like my letter said, we North Dakotans deserve some answers.
[ 1 comment ]
( 31 views ) |
permalink
|
Click a dot to rate this entry:





( 3 / 295 )
---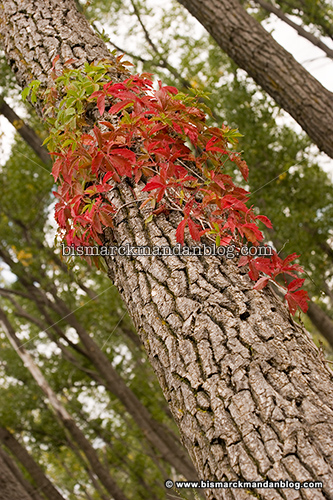 This was a wacky year for photographers; we waited patiently for the leaves to being changing in color so we could head out and poke our cameras at 'em, when suddenly they all dropped to the ground. They were still green, too. What's up with that?
I haven't had my camera out of the bag since I don't know when. The past week and a half of family with flu, colds, and whatever else hasn't helped. Now I've got it, yay! I did get to shoot some video outside today at McDowell Dam, and it really helped me feel better (but still sick). Hopefully I can get on the mend for the rest of the week, I hear it's supposed to be pretty nice out there. Perhaps there's a chance to take my boys for more motorcycle rides!
[ 1 comment ]
( 19 views ) |
permalink
|
Click a dot to rate this entry:





( 3 / 244 )
---
<<First
<Back
| 125 | 126 | 127 | 128 | 129 | 130 | 131 | 132 | 133 | 134 |
Next>
Last>>