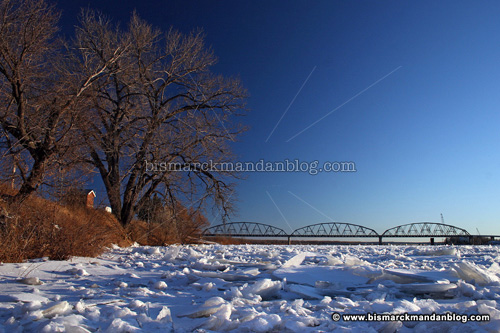 If you can name the artist whose song this post is titled for (without a Google search) I'll be impressed! I was taking the long way home again today and found some really wild ice jams on the river. Naturally I had to go out and photograph them from up close!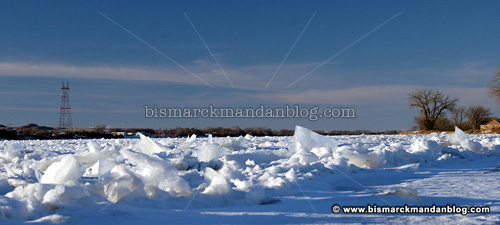 I'm not saying how far out on the ice I went to get these, but I can say that I know it was only a foot deep or so before it froze. In all likelihood it was frozen all the way down. In any case, it was solid...and in the event of a plunge through the ice, the only casualty would be my ankles.
[ 3 comments ]
( 68 views ) |
permalink
|
Click a dot to rate this entry:





( 3 / 573 )
---
UPDATE:
I brought this post back up to the top of the page and added some more photos because Paul Schaff is going to be on the PH Phactor on Thursday, December 7th at 8:15am. Tune in at 8 and go see this Christmas display!

Now's the time of year when carloads of Bismarck-Mandan residents get together and troll around our fair cities in search of eye-catching Christmas displays. It's even so popular that local limousine services offer their services to drive you around to the more popular neighborhoods!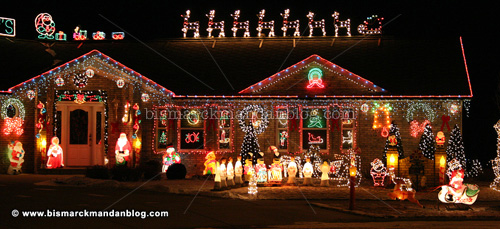 Obviously neighborhoods like
Northview Lane
come immediately to mind, but one house you might not know about really beats 'em all. I'm talking about Paul Schaff's house, in the far southwest corner of Mandan.

I know about this house because it's within spittin' distance of my parents' house, on a hill overlooking Fort Lincoln school. This is the view of the house from
behind
...yeah, that's right: these folks are serious! I took this picture from the schoolyard below.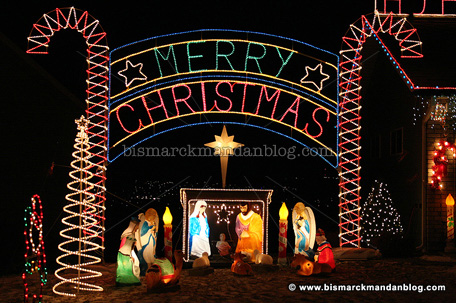 In years past I remember there even being a musical ornament of some sort, so we'd have to turn down the sounds of Charlie Brown Christmas and roll our windows down as well. I didn't hear anything like that last night as Stacy and I took a drive past the house.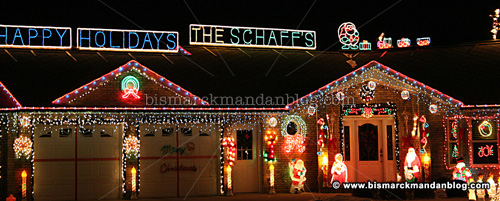 To get to this house, you need only find West View Lane in southwest Mandan. Let me make it easy: Head south on Highway 1806. Cross the bridge and keep going, as if you were going to Fort Lincoln State Park. At the top of the first big hill is an intersection with 19th Street. Take a right on 19th and follow it until you come to a 4-way stop sign at 8th Avenue SE. Take a left and pass Fort Lincoln School, and you can't miss the house. From there it's just a matter of taking a couple of right-hand turns to find them at the end of the road.

This is my absolute favorite time of the year. Sure, I can't go out on the motorcycles without spiked tires (which I've done) and it's a lot colder to go walkabout with my camera... but driving around snowy roads with Vince Gauraldi playing in my truck is the absolute best feeling I get in Bismarck-Mandan all year long. With that in mind, I'll be posting more Christmas sights here. They're even better when shared.
[ 2 comments ]
( 46 views ) |
permalink
|
Click a dot to rate this entry:





( 3 / 545 )
---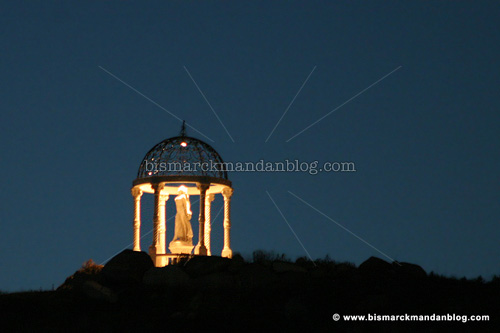 If you ever find yourself coming home from Fort Lincoln at night, you may have looked up at the hill behind Beck's Museum and seen this thing lit up at the top of the hill. It appears to be on private property, and I have no idea as to its significance. If you have any information on this particular monument, please post a comment. For once I'm stumped.
[ 1 comment ]
( 72 views ) |
permalink
|
Click a dot to rate this entry:





( 2.9 / 581 )
---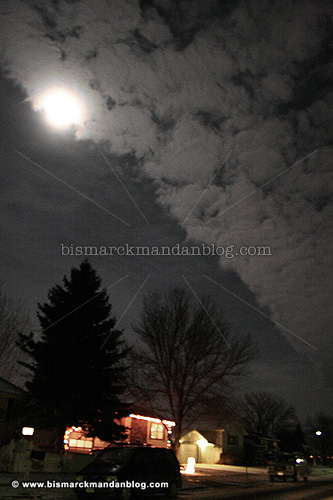 Sometimes I get a picture that's blurry, grainy, or otherwise imperfect, yet is so COOL that I just have to hang on to it. This is one of those nights. These clouds were so neat that I had to pull over, lean out the window of the truck, and snap the picture before the clouds advanced in front of the moon.
I had the camera set to 3200 ISO, which (if I do my math correctly) is about 8x more sensitive than your typical digital camera will go. That would hopefully allow me to capture the moment, which it did. It was still a little blurry because I am not very steady while protruding from a truck window. But I took it in order to show other people what the clouds looked like last night...so it works.
[ add comment ]
( 3 views ) |
permalink
|
Click a dot to rate this entry:





( 3 / 462 )
---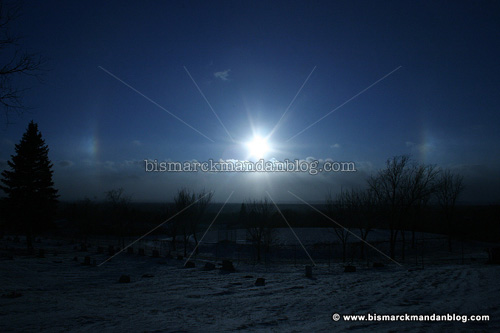 This was a unique sight on Saturday: a rainbow on each side of the sun! It's a
parhelion
, or sundog. It's formed by rays of light refracting through ice crystals, just like they do with water droplets to form a rainbow.
I saw this as a bunch of low clouds rolled past. The remnants of the clouds caused this phenomenon to occur, and it disappeared when the skies cleared completely.
[ 1 comment ]
( 37 views ) |
permalink
|
Click a dot to rate this entry:





( 3.1 / 482 )
---
<<First
<Back
| 268 | 269 | 270 | 271 | 272 | 273 | 274 | 275 | 276 | 277 |
Next>
Last>>